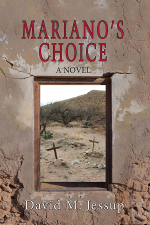 My new book, Mariano's Choice, will be featured at a book launch event on October 1, 2016, at Sylvan Dale Ranch.  The event includes a tour of historic sites described in the books, breakfast and lunch, followed by a reading and book signing, with proceeds going to the non-profit Heart-J Center for Experiential Education.  For details and registration, click here.
According to New York Times bestselling author Sandra Dallas, the book "adds flesh and blood to the bones of one of the West's legendary mountain men."
When young Mariano Medina witnesses a vicious attack on a girl he adores, he flees in inexplicable terror.  Fifteen years later, as a grown man training horses along the Oregon Trail, he has a chance to redeem himself if he can overcome his cowardly urge to flee. His choice will lead Medina back to the land of his childhood, where he must confront his darkest fears and uncover the hidden source of his panic in the ghostly stare that haunts his dreams.
"Mariano's Choice is one of those rare, wonderful books that sticks in the mind and heart long after you've read the last page," according to Anne Hillerman, New York Times best-selling author.  "Masterfully paced, it offers an intriguing snapshot of the West through the eyes of characters largely ignored by mainstream fiction."
http://www.davidmjessup.com/images/Signature-David-J-just-one-for-inserting-1-300x119.jpg
0
0
David Jessup
http://www.davidmjessup.com/images/Signature-David-J-just-one-for-inserting-1-300x119.jpg
David Jessup
2016-09-05 10:34:56
2016-11-19 22:38:58
New Book Launch - October 1, 2016