Here's the Press release that just went out on my upcoming presentation of Mariano's Choice at the Loveland Museum at 5:30 PM on Thursday, Nov. 17.  If you're in the neighborhood, drop in and say hi!  Also, the Loveland Library is having a local author's day tomorrow, Nov. 12, from 1-4 PM.  You'll see my smiling face there too.
Author David Jessup Blends Colorado History, Fiction in November 17 Talk.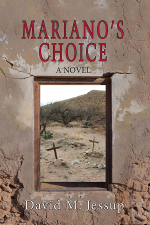 Author David Jessup brings Colorado history to life in his latest novel about Mariano Medina, Loveland's first settler.  His presentation at the Loveland Museum on November 17 features photos of the real characters who lived on the frontier during the lead up to America's 1846 war with Mexico.
According to New York Times bestselling author Sandra Dallas, the book "adds flesh and blood to the bones of one of the West's legendary mountain men."
"Mariano's Choice is one of those rare, wonderful books that sticks in the mind and heart long after you've read the last page," according to Anne Hillerman, New York Times best-selling author.  "Masterfully paced, it offers an intriguing snapshot of the West through the eyes of characters largely ignored by mainstream fiction."
Mariano Medina is most well-known for having saved a U.S. Army brigade that attempted to cross the Colorado mountains during the Mormon War in 1857. While history does make some account of Medina's adult life, little is known about the childhood of a man known for his grit, tough nature and courage. That's where Jessup's story begins in Mariano's Choice.
"I mused about his motivations and personality. I felt the urge to fill that information in," Jessup said. "I thought, wouldn't it be interesting if he wasn't always this brave tough guy, but as a youth was cowardly and afraid," Jessup said. "And how might that transformation have come about?"
In Jessup's fictional version, young Mariano Medina witnesses a vicious attack on a girl he adores and flees in inexplicable terror.  Fifteen years later, as a grown man training horses along the Oregon Trail, he has a chance to redeem himself if he can overcome his cowardly urge to flee. His choice will lead Medina back to the land of his childhood, where he must confront his darkest fears and uncover the hidden source of his panic in the ghostly stare that haunts his dreams.
Jessup's talk and book reading is scheduled for 5:30 PM on Thursday, November 17th, 2016, at the Loveland Museum, 503 North Lincoln Avenue.  There is no charge, and no registration is necessary.  Proceeds from book sales will support the Loveland Museum and the Loveland Historical Society, which will also accept donations at the event.
For more information about the book, visit www.davidmjessup.com.  The book can be purchased in advance at the Museum and at the event itself, or ordered from local and online book stores.
Images of the book cover and an author bio are attached.
For Further Information, contact:
Author David M. Jessup, davidj@sylvandale.com; 970-481-8342
Jenifer Cousino, Loveland Museum, 970.962.2413   Jennifer.Cousino@cityofloveland.org
Mike Perry, Loveland Historical Society, (970) 667-3104, Mperry1000@aol.com
http://www.davidmjessup.com/images/Signature-David-J-just-one-for-inserting-1-300x119.jpg
0
0
David Jessup
http://www.davidmjessup.com/images/Signature-David-J-just-one-for-inserting-1-300x119.jpg
David Jessup
2016-11-11 10:04:14
2016-11-19 22:32:37
My Nov. 17 Book Talk at Loveland Museum