So much has been written about the OK Corral I almost passed this book up. Now I consider Epitaph one of the best historical novels on the American West I've ever read.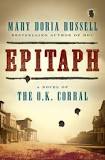 Historical fiction often suffers when authors dwell too much on historical fact at the expense of a good story, or as in the case of most accounts of the OK Corral, allow the fiction to run away from the facts.   Mary Doria Russel achieves a perfect balance.  Learn and be entertained at the same time.  It's "edutainment" at its best.
Ever wonder what these famous characters were really like?  How they were raised, what drove them, what and who they cared about, how they made a living, what happened to them after the famous fight?  If you like books with extensive character development, you'll love Epitaph.  And it's not just the famous personalities you learn about. Their relatives, wives, mistresses, get in-depth profiles as well.  You end up feeling like you really know these people.  And you're glad you do.
The author has mastered the omniscient point of view as well as anyone I've read.  When as narrator she imposes her own view, you're glad she did, because it's insightful.  When she flits seamlessly from one character's head to another's, you're swept right along with her.  She knows how to let the reader draw conclusions about characters without explaining them.  Here's an interchange between Curly Bill Brocius, Johnny Ringo and Ike Clanton.  Clanton's part of the  conversation consists almost entirely of repeating phrases he hears from others:
"Toss in an extra twenty for me and the boys," Curly Bill suggested, upping the ante, "and you got yourself a deal."
"You got yourself a deal!" Ike said happily.
"Ike," Ringo said, "the devil himself is going to recommend you to God, just to keep you out of hell."
Ike's mouth worked a bit.  You could see he was trying to decide if that was good or bad, but he shut up while he figured it out.
The reader gets that Ike isn't playing with a full deck, without the author telling you so.
If you think our current politics are unsavory, wait till be get a look at the political rivalries that roiled Tombstone, Arizona, in 1878.  Like Wyatt Earp himself, I was clueless about why sheriff Johnny Behan was spreading nasty rumors about Wyatt's friend, Doc Holliday, until Maria Doria Russell's historian's eye shed light on the matter.  We're talking Civil War aftermath, reconstruction resentment, mining moguls, graft, corruption, sheriffs collecting taxes…who knew? It's all there, in splendid detail.  Finally, the gunfight makes sense.
David M. Jessup is author of the award-winning historical novel, Mariano's Crossing, A prequel, Mariano's Choice, will be published by Pronghorn Press in September 2016.  Jessup is co-owner of Sylvan Dale Ranch west of Loveland, Colorado.
http://www.davidmjessup.com/images/Signature-David-J-just-one-for-inserting-1-300x119.jpg
0
0
David Jessup
http://www.davidmjessup.com/images/Signature-David-J-just-one-for-inserting-1-300x119.jpg
David Jessup
2016-08-08 16:49:10
2016-11-19 22:39:35
Book Review: Epitaph, by Mary Doria Russell