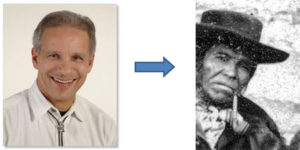 Saturday, May 25th, 2019
8:30 to 11:00 AM
​Sylvan Dale Ranch ~ Loveland, Colorado
Learn How Angel Vigil Becomes Mariano Medina
The Big Thompson's first settler, Mariano Medina, died over 150 years ago.  But he's "re-visiting" Loveland in the form of historical reenactor Angel Vigil. Angel is an accomplished author, performer, theatre director, and educator. He is the author of six award-winning books on Hispanic and Western arts and culture.
Join us at Sylvan Dale Ranch on Saturday May 25th for a behind-the-scene encounter with Mariano Medina in the person of Angel Vigil.  Find out how Mr. Vigil prepared for his role, chose his clothing and props, and developed his Medina character.
After breakfast at Sylvan Dale, we'll accompany Angel to Mariano's Crossing, the area on which Medina built his toll bridge, fort and trading post in the 1860s.  Discover how he incorporates a "feeling of place" into his Mariano persona while walking with him and members of the Loveland Historical Society near the land that Medina called home and the cemetery where he was buried. We'll also be joined by David Jessup, author of a series of historic novels inspired by Mariano's life and adventures in the foothills west of Loveland.
The morning program is co-sponsored by
Heart-J Center for Experiential Learning at Sylvan Dale Ranch
and the Loveland Historical Society.
​
Breakfast, Presentation by Angel Vigil,
Tour with Angel Vigil, David Jessup, and Loveland Historical Society
 Cost  – $35.00
Continue the Adventure….​At 1:30, Angel Vigil will bring Mariano Medina to life in the Foote Gallery at the Loveland Museum.   No charge.  No Registration Necessary.
The breakfast talk will be different than the presentation at the museum,
so folks should actually see both to get the full experience of Mariano.
http://www.davidmjessup.com/images/Signature-David-J-just-one-for-inserting-1-300x119.jpg
0
0
David Jessup
http://www.davidmjessup.com/images/Signature-David-J-just-one-for-inserting-1-300x119.jpg
David Jessup
2019-04-26 09:36:49
2019-04-26 09:36:49
Breakfast and Tour with Mariano Medina