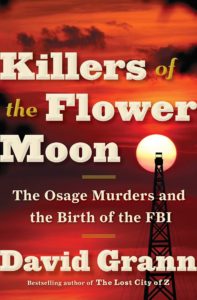 Killers of the Flower Moon
The Osage Murders and the Birth of the FBI
by David Grann
This book is a history that reads like a whodunnit.  A page-turner that bring to life one of the most shocking atrocities in Oklahoma history: the murder of Osage Indians by upstanding white citizens to acquire oil rights in the 1920s.  Who knew?  The Tulsa massacre of Blacks has received a lot of attention recently, but the Osage murders—possible in the hundreds by author David Grann's account—aren't even mentioned in the Wikipedia Oklahoma history entry.
This book shines a light on the obscure time period marking the end of the "wild west" and the emergence of modern investigate work of the FBI.  Well worth your time.
http://www.davidmjessup.com/images/Signature-David-J-just-one-for-inserting-1-300x119.jpg
0
0
David Jessup
http://www.davidmjessup.com/images/Signature-David-J-just-one-for-inserting-1-300x119.jpg
David Jessup
2020-09-16 06:58:48
2020-09-16 06:58:48
Killings of Osage Indians for Oil