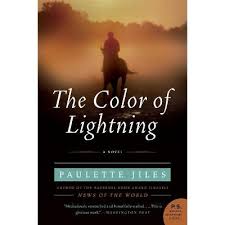 As a writer who has worked to give voice to an Indian woman growing up in 1840s Montana (Mariano's Woman), I am awestruck by a book I just read entitled The Color of Lightning, by Paulette Jiles.  It tells the story of a freed slave named Britt Johnson who hauls his family to Texas after the Civil War only to lose his wife and children to a Kiowa-Comanche raiding party.  To get them back, Britt must learn Kiowa bargaining rituals with the help of a Comanche drifter who shares with Britt a love of fine horses.  In the process he learns that some young captives, despite the trauma of watching their parents brutally murdered, have no desire to return to "civilization."  (the psychology of captives taken by Indians is the theme of another excellent Jiles book, The News of the World.)
Most of the characters in The Color of Lightning were real people, and the cultures in which they are embedded—Kiowa, Comanche, liberated slave settlements hunkering uneasily among Confederate Texan towns, buffalo soldiers and earnest Quakers volunteering as Indian agents—are rendered with convincing authenticity by Jiles.  Yet her characters retain their individuality and unique voices without becoming cultural stereotypes. How she pulls this off is amazing to me.  I had to research only three cultures in my book.
Jiles also brings the Texas landscape to life with poetic imagery, and describes the everyday clothes, tools and dwellings of the time period with astonishing historical detail, without detracting from the narrative.
The chapter where Britt re-connects with his injured and sexually brutalized wife is one of the tenderest and most compelling love scenes I have ever read.
This has got to be one of my all-time favorite books.
http://www.davidmjessup.com/images/Signature-David-J-just-one-for-inserting-1-300x119.jpg
0
0
David Jessup
http://www.davidmjessup.com/images/Signature-David-J-just-one-for-inserting-1-300x119.jpg
David Jessup
2020-08-25 12:16:10
2020-09-08 15:34:02
The Color of Lightning by Paulette Jiles