Just prior to the successful launch of Mariano's Choice, my second historical novel, an interview was published in the Loveland Reporter-Herald September 25, 2016.  Excerpts below.  The original can be viewed here.
'Mariano's Choice' looks at Mariano Medina's early life
By Michelle Vendegna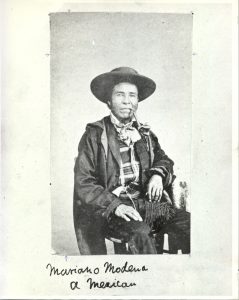 David Jessup is following up his first novel, "Mariano's Crossing," with a prequel, "Mariano's Choice."
…"This (new book) goes back to [Mariano Medina's] early life starting in Taos, N.M., when he was a 15-year-old boy and proceeding up to when it joins the first book in 1860," he said of the new book. Jessup writes historical fiction.
Based on historical events, Jessup fills in the blanks with fiction. Most of the characters he features in the story were real people in the real locations.
"As with much of history, we know often what happened but we often don't know why it happened or what the motivation and personality of the characters were," he said, "That's the fun of writing fiction."
Jessup will be having a book launch at 8 a.m. Oct. 1 at Sylvan Dale Ranch, 2939 N. County Road 31D, Loveland, which he co-owns.
…"I became fascinated with this man and his family for two reasons," he said.
The first was that Medina became quite successful in a time that many had ill feeling toward Mexicans following the Mexican-American War, Jessup said.
"I always wondered what it would have been like for him and the other European settlers in the valley to have this Mexican fellow be top dog," he said.
The second reason …There was an oral history that following the death of Medina's 15-year-old daughter, his wife Takansy (some historians spell her name Tacancy) took the girl's body up the mountains for a secret burial. It intrigued Jessup that a couple that had been together for 28 years and had their own cemetery would have this conflict.
The new book focuses on how Medina became the man that he was. Jessup said in historical accounts he was described by others as a tough.
"How did he get that way? Was he born tough and resourceful or, in my imagination, I wondered, it would be interesting if he was timid as a young man and cowardly and how might he overcome that cowardice or timidness to become the man he became," Jessup said.
He wanted to explore Medina's relationship with Takansy as well.
"Mariano purchased her from her first husband for, what was then, a very high price and so I wondered, wow, he must have felt quite passionately about her," he said. Medina traded six horses and six blankets in 1844 to Takansy's husband, a French fur trapper.
"The facts of history raise questions in my mind," he said.
As Jessup wrote the book he found a central theme emerge.
"You don't always know the central theme of the book when you start writing it. For me, what became the theme of the book was overcoming fear and cowardice," he said. How did a young man grow into the fierce mountain man that history knows today.
"To me, it was just a matter of: Was he going to be brave and tough from the get go? That didn't sound very interesting," he said.
Jessup said, as the name of the book implies, Medina will face [a] few dilemmas along the way.
http://www.davidmjessup.com/images/Signature-David-J-just-one-for-inserting-1-300x119.jpg
0
0
David Jessup
http://www.davidmjessup.com/images/Signature-David-J-just-one-for-inserting-1-300x119.jpg
David Jessup
2016-10-06 15:42:43
2016-11-19 22:34:00
Author David Jessup Interviewed in Reporter-Herald